Purpose
The Community & Police Working Group is made up of representatives from the City of Lancaster government, the Lancaster City Bureau of Police, the Lancaster branch of the NAACP, representatives from community benefit organizations, clergy, and city residents.
Since its formation in the summer of 2018, the group has made strides towards improving trust and cooperation between the Lancaster City Bureau of Police and the public it serves.
In addition to hosting a community meetings in August 2018 and at the beginning of 2020, the group has addressed issues such as recruitment and hiring, use of force, the civilian complaint form and a body camera policy.
The group has begun working with Intersekt Alliance, a consulting firm out of Philadelphia, to create a strategic plan. The strategic plan will address the organizational structure of the group, finalize a vision and mission, and define the work of the group.
Bureau of Police Year in Review
Committee Members
Milzy Carrasco – City of Lancaster
John Churchville, JD – Prof. of Criminal Justice, Lancaster Bible College
Shelby Cunningham – School District of Lancaster
Rosa Gallego – Lancaster City Police
Chief Richard Mendez – Lancaster City Police
Patricia Hopson Shelton – NAACP Lancaster Chapter
Daisy Lebron-Plaza – City Resident
Hon. Jodie Richardson – Magisterial District Judge
Rev. Roland Forbes, Jr. – Ebenezer Baptist Church
Delia Sanchez – Domestic Violence Services
Mayor Danene Sorace – City of Lancaster
Lt. Glenn Stoltzfus – Lancaster City Police
Sgt. Joel Thomas – Lancaster City Police
Keith Welton – City Resident, US Army (Ret.)
James Nixon – City of Lancaster
Progress To Date
Since 2018 the City of Lancaster and Bureau of Police have:
Convened a Community & Police Working Group to focus on strengthening Community & Police
Relationships – this group continues to guide and influence this work.
Revised the Use of Force Policy and conducted further de-escalation and other training for our officers.
Implemented utilization of body cameras and used footage to address training gaps individually and collectively.
Adopted and continue to increase the availability and utilization of language access tools to ensure the entirety of our community is served.
Partnered with NAACP in recruiting and test preparation efforts.
Reorganized the Bureau of Police to include a 3-member Community Engagement department.
Hired Police Social Workers to connect those we serve with social service agencies who are better equipped to assist.
Combined various sources of data to make data-informed and more proactive decisions.
Fired and or employed other corrective measures among officers that have not upheld City policy or values.
CPWG Session 1
CPWG Session 2
CPWG Session 3
CPWG Session 1
Masonic Lodge No. 43
213 W. Chestnut Street
Session 1 Community Responses Word Cloud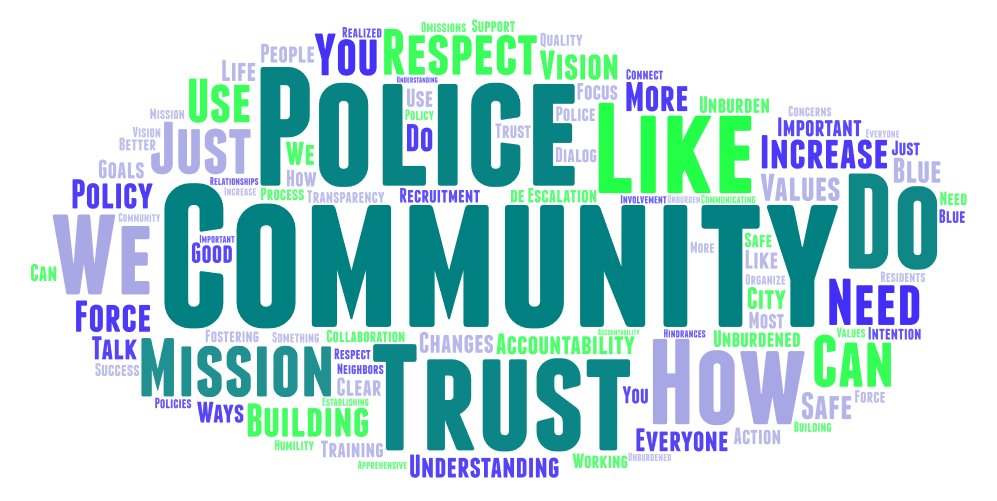 CPWG Session 2
Crispus Attucks Community Center
407 Howard Ave.
Session 2 Community Responses Word Cloud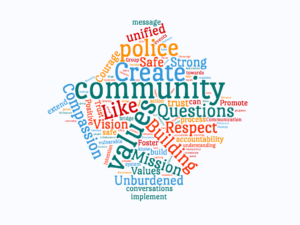 CPWG Session 3
Bright Side Opportunities Center
515 Hershey Ave.
Session 3 Community Responses Word Cloud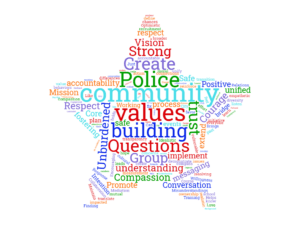 Community Session Notes & Responses
Community Session Notes & Responses