STORMWATER MANAGEMENT
The City has developed design, maintenance, and monitoring manuals, as well as an updated green infrastructure plan, pursuant to Consent Decree requirements. The documents linked below under the Documents & Resources tab are currently under review by the Pennsylvania Department of Environmental Protection and the U.S. Environmental Protection Agency.
City Stormwater Bureau
The Stormwater Bureau is in the Department of Public Works, which also includes the Bureaus of Water, Wastewater Operations, Engineering, Operations, and Public Property. The Stormwater Bureau is responsible for overseeing the stormwater management and green infrastructure program, maintenance and repair of public stormwater infrastructure, compliance with MS4 regulations, enforcing the stormwater ordinance, managing the stormwater fee, processing credits and appeals, reviewing site plans, inspecting and maintaining green infrastructure, and leading the City's bicycle and pedestrian planning and sustainability program.
Stormwater Management
The City of Lancaster discharges stormwater in two different ways: through combined sewer overflows (CSOs) and through Municipal Separated Stormwater Sewer Systems. CSOs are discharges of untreated sewage that flow into the Conestoga River and eventually into the Chesapeake Bay. The City is responsible for about 750 million gallons of CSO. This is common in historic cities like Lancaster that rely on a combined sewer system (CSS). A CSS collects and transports both domestic sewage and rainwater flowing from downspouts, streets, sidewalks, parking lots and over impervious surfaces into the City's storm drains. About 45% of the City – mostly in the historic 4 square mile charter – is serviced by a combined system. Eighty-five percent of the time, the City's Advanced Wastewater Treatment Facility is able to manage and clean the volume of water flowing through this CSS. However, during heavy rainstorms the system becomes overwhelmed and untreated stormwater overflows into rivers. The problem of stormwater runoff and combined sewer overflow (CSO) is not going away; nor will our responsibility to help clean and restore the Bay; however, the City has become a leader in using green infrastructure to manage stormwater. See below to learn more!
The City also has about 4 square miles of area that is serviced by a Municipal Separated Stormwater Sewer System (MS4), which is mostly located in outlying areas of the City that were annexed throughout the years; an MS4 is a system that conveys stormwater through storm drains, pipes, and ditches that discharges to surface waters. This requires an MS4 Permit issued by the Pennsylvania Department of Environmental Protection (PADEP) under the National Pollution Discharge Elimination System (NPDES) provisions of the Federal Clean Water Act, which requires specific best management practices to be used to ensure water quality in the City's stormwater management program. The City is also using the latest green infrastructure technologies to manage MS4 discharges. Learn more about what the City is doing and how you can help at SaveitLancaster.org.
What about the Chesapeake Bay?
Watersheds are a bit like Russian Dolls: there are watersheds within watersheds with watersheds. The City of Lancaster, for instance, is in the Conestoga watershed, which is a part of the Susquehanna watershed and ultimately the Chesapeake Bay watershed. The health of the Chesapeake Bay is dependent on communities upstream, like the City of Lancaster. In fact, the Chesapeake Bay watershed runs across the District of Columbia and six states: Delaware, Maryland, New York, Pennsylvania, Virginia, and West Virginia. The Chesapeake Bay is one of the great natural resources of the United States and President Obama declared it a National Treasure in Executive Order 13508. The City of Lancaster is under regulatory pressure to lessen its impact on the bay.
The Environmental Protection Agency is enforcing regulations that protect the Chesapeake Bay, including a Total Maximum Daily Load. A Total Maximum Daily Load (TMDL) is a "pollution diet" that identifies the maximum amount of a pollutant a waterway can receive and still meet applicable water quality standards. A TMDL sets limits on nitrogen, phosphorous, and sediment from point sources, nonpoint sources, and a margin of safety to account for uncertainty. Point sources include sewage treatment plants, stormwater discharges, industrial discharges, etc. Nonpoint sources include pollutants carried by rainfall runoff from forests, agricultural lands, atmospheric deposition, abandoned land mines, etc. The City of Lancaster's MS4 and Combined Sewer Outfalls are examples of regulated point sources.
Chesapeake Bay TMDL is the largest and most complex in the U.S. It is actually a combination of 276 TMDLs. The TMDL will be implemented using an accountability framework that guides restoration efforts using four elements.  These elements include Watershed Implementation Plans (WIPs), two-year milestones, EPA's tracking and assessment of restoration progress and specific federal actions if jurisdictions do not meet their commitments. This accountability framework helps demonstrate the reasonable assurance provisions of the Bay TMDL pursuant to both the Clean Water Act and Chesapeake Bay Executive Order 13508. The City of Lancaster is working hard to do its part in restoring local water quality and consequently the Chesapeake Bay.
The Chesapeake Bay Pollutant Reduction Plan (CBPRP) represents the City of Lancaster's effort to meet one component of the Pennsylvania Department of Environmental Protection (PADEP) Municipal Separate Storm Sewer (MS4) permitting requirements. In particular, the plan includes permitting requirements to reduce polluted stormwater discharges to local surface waters impaired for nutrient and/or sediment, and meet Chesapeake Bay pollutant reductions for stormwater discharges to surface waters located within the Chesapeake Bay watershed. View the CBPRP under the Documents & Resources tab below.
What is Green Infrastructure?
The City of Lancaster is solving its stormwater challenges through the implementation of a 25-year green infrastructure plan. The plan's mission is to provide more livable, sustainable neighborhoods for City residents and reduce combined sewer overflows (CSOs) and nutrient loads. Green infrastructure (GI) enhances the natural environment to manage rainwater where it falls, allowing water to soak into the ground, evaporate into the air or collect in storage units. Examples of GI include porous asphalt, rain gardens, bioswales, street trees, and green roofs, among many other green technologies. The City of Lancaster has been recognized as a leader in sustainable stormwater management at the international, national, state, and local levels. Learn more about green infrastructure at www.SaveItLancaster.org
Stormwater Permits
If any amount of impervious surface is added, removed, or reconstructed, or if any amount of earth disturbance occurs, the Stormwater Bureau needs to be contacted for a permit. There are three kinds of permit applications: very small project, small project, and large project. All projects involving 1,000 square feet or more of new or reconstructed impervious surface require a large stormwater permit. All projects involving 100 square feet or more, and less than 1000 square feet, of new or reconstructed impervious surface require a small stormwater permit. All projects involving less than 100 square feet of new or reconstructed impervious surface require a very small stormwater permit. See below to find stormwater permit applications. For permitting matters, call (717) 291-4764 or email stormwater@cityoflancasterpa.gov.
Large Project Application
Small Project Application
Very Small Project Application
Stormwater Management Fee
In 2014 City Council adopted the stormwater ordinance that enacted a fee for all property owners based on the measurement of impervious surface on their property. This fee is used solely for i) the implementation and management of stormwater program; ii) constructing, operating, and maintenance of stormwater facilities; and iii) payment for other project costs and performance of other functions or duties authorized by law in conjunction with the maintenance, operation, repair, construction, design, planning and management of stormwater facilities, programs and operations.
According to the stormwater management fee ordinance, impervious surface is defined as "any surface that prevents or limits the infiltration of water into the ground. Any structure, building, parking area, driveway, road, street, sidewalk, patio, deck, and any area of concrete, asphalt, pavement, compacted gravel, packed stone, stone, brick, tile, swimming pool, or artificial turf, and highly compacted soil shall be considered 'impervious surface' if they prevent or limit infiltration. Impervious surface also includes any area used by or for motor vehicles or heavy commercial equipment, regardless of surface type or material, including any road, road shoulder, driveway, or parking area."
Initial assessment notices were sent to property owners in March 2014. Future assessments will be issued to newly developed properties or properties where the impervious surface has been modified. Within thirty (30) days of the date of any assessment, a Property Owner may file a petition for review and/or adjustment to the Director in writing if the Property Owner believes that the Property which is the subject of the notice of assessment has been improperly tiered or that the Fee has been calculated incorrectly. For more information on appeals refer to the Policies and Procedures Manual.
See the Documents & Resources tab below for documents that will help you understand the stormwater fee.
Receiving Stormwater Credits
Stormwater credits are available to all Property Owners and can help reduce your stormwater fee up to 50%. Residents and businesses can install a green infrastructure technology on their property to manage their stormwater; credits are granted based on the effectiveness and capacity of the technology. Schools can also apply for credits for providing classroom instruction on stormwater to students. For more information on stormwater credits refer to the Policies and Procedures Manual under the Documents & Resources tab below. Also, visit SaveItLancaster.org to learn what you can do in 5 minutes, 5 hours, and 5 days.
Illicit Stormwater Discharge
An illicit stormwater discharge is any discharge to a municipal separate storm sewer that is not composed entirely of stormwater. Examples of illicit discharges include dumping of motor vehicle fluids, household hazardous wastes, grass clippings, leaf litter, animal wastes, or unauthorized discharges of sewage, industrial waste, restaurant wastes, or any other non-stormwater waste into a municipal separate storm sewer system. An illicit discharge may also be illegally piped directly to the water body. The results of an illicit stormwater discharge can include high levels of pollutants such as heavy metals, oils, greases, solvents and bacteria that contaminate local water sources. Use the complaint form under the Documents & Resources tab below to report any illicit stormwater discharges you have witnessed.
To send digitally, please download the form found in the Documents & Resources tab below, fill it out completely, save it, and email the completed form to: Angela Brackbill, Water Resources Engineer, Stormwater Management Bureau, at abrackbill@cityoflancasterpa.gov
What Can You Do? Go to SaveitLancaster.org
SaveItLancaster.org is a website created in partnership with the Lancaster County Conservancy that is intended to serve as a community resource to help residents and commercial property owners conserve water, prevent pollution, and encourage efforts to "soak it up" using various forms of green infrastructure. Most of the impervious surfaces that create stormwater exist on privately held land, making residents an important part of addressing stormwater pollution. Learn more about how you can help.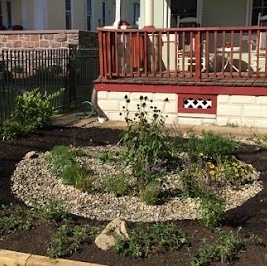 Stormwater Residential Grant Program
Lancaster City's Stormwater Residential Grant Program promotes small scale green infrastructure projects, like rain gardens, permeable pavers, and dry wells, that absorb stormwater runoff on residential property. Save and improve water quality on your property, in the City, and downstream to the Conestoga River.
Staff
Documents & Resources
Staff
Documents & Resources