What We Do
The Bureau of Planning is charged with implementing the City's Comprehensive Plan through zoning, historic preservation, neighborhood and corridor planning, site planning and design and the development of new ordinances and programs governing land development and subdivision practices, which guide the physical growth and development of the City and foster healthy, successful communities.
The Bureau provides direction and technical assistance to property owners, architects, general contractors and developers regarding zoning, land development, use of buildings, property site improvements, rehabilitation of historic structures, and the requirements of City land use, development and subdivision regulations. One primary purpose of the Bureau's work is to help develop vacant, blighted, and under-utilized sites in a manner that maximizes the quality of land uses and urban design of new projects and knits together the fabric of our City blocks and streets to create a walkable and livable environment.
Finally, the Bureau of Planning coordinates interdepartmental reviews of applications for major housing, commercial, and mixed-use development projects; provides technical staff support to the Boards, Commission, and Authorities related to Planning, Zoning, Historic Preservation, and Redevelopment; and ensures the City's compliance with the Pennsylvania Municipalities Planning Code on matters related to the City's land use and development ordinances.
Upcoming Events
There are currently no upcoming events.
Who We Are
Documents & Resources
Who We Are
Documents & Resources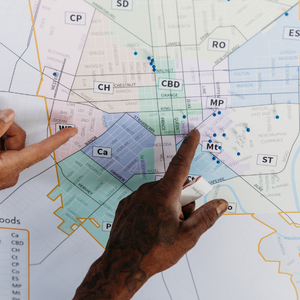 Planning Our Future Lancaster
The City of Lancaster is in the process of updating its comprehensive plan, which is intended to guide the City's development and identify what is important to our community. The plan is rooted in community feedback and we want to hear from all voices!