Stormwater Permits
A stormwater management permit is required if any amount of impervious surface is added, removed, or reconstructed, or if any amount of earth disturbance occurs. There are three kinds of stormwater permit applications: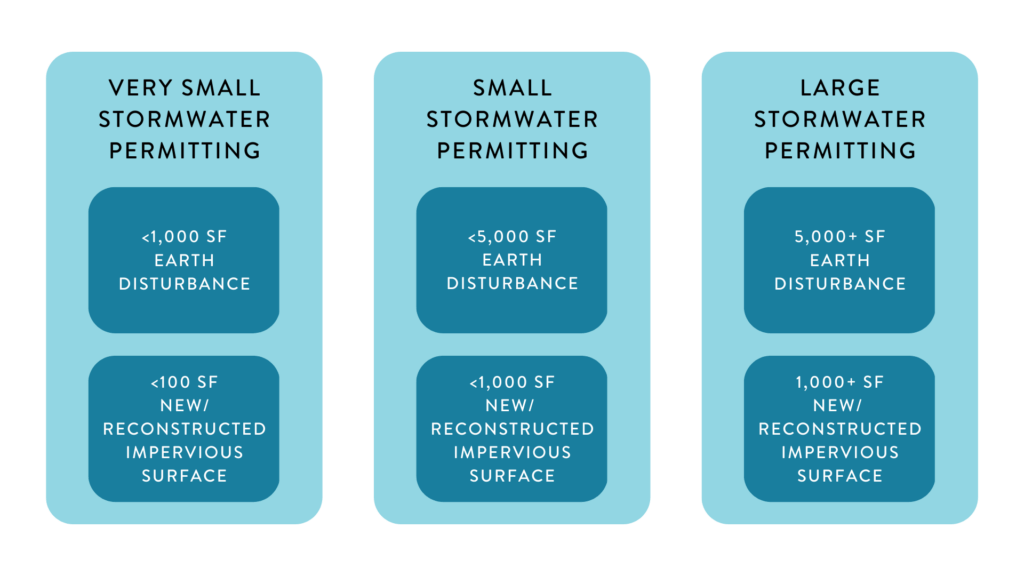 Very Small Project | less than 100 square feet of new or reconstructed impervious surface
Small Project | between 100 and 1,000 square feet of new or reconstructed impervious surface
Large Project | 1,000 square feet or more of new or reconstructed impervious surface
An impervious surface is defined as "any surface which prevents or limits the infiltration of water into the ground. Any structure, building, parking area, driveway, road, street, sidewalk, patio, deck, and any area of concrete, asphalt, pavement, compacted gravel, packed stone, stone, brick, tile, swimming pool, or artificial turf, and highly compacted soil shall be considered "impervious surface" if they prevent or limit infiltration."
Permit applications are available below under Documents & Resources. If you are unsure whether your project requires a permit or need assistance, staff are available to help.
Consult the City's Green Infrastructure Design Manual, which can be found below under Documents & Resources, for additional guidance.
Erosion & Sediment Pollution Control/NPDES for Stormwater Discharges Associated with Construction Activities
Erosion and the resulting deposition of sediment in our waterways are the primary pollutant by volume of our streams. Minimizing erosion and sediment pollution of our streams requires initiatives at the federal, state, county and local municipal levels of government. The City of Lancaster and the Lancaster County Conservation District entered into a Memorandum of Understanding (MOU) to serve as a joint commitment to control accelerated erosion and to prevent sediment pollution to the Waters of the Commonwealth, which may result from the conduct of earth disturbance activities in the City.
In accordance with this MOU, the Lancaster County Conservation District (District) shall, within the limits of its capabilities and within the scope of its Delegation Agreement with PA DEP, administer and implement the Commonwealth's Erosion and Sediment and Stormwater Control (Chapter 102 and Chapter 92- NPDES) Programs.
Application materials can be obtained from the City of Lancaster or the Lancaster County Conservation District website at www.lancasterconservation.org/earth-disturbance. E&S plans must be submitted to the LCCD.
Questions on permitting or earth moving activities related to streams, wetlands, ponds, springs or other waters regulated under Chapter 105 should be directed to Pennsylvania Department of Environmental Protection.